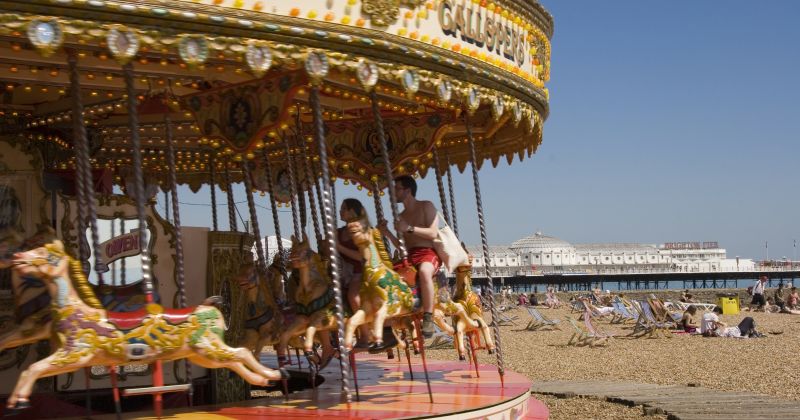 May 2015 half term highlights and activities in Brighton
Take the kids to the Brighton seaside for the half term holidays. There are plenty of attractions, activities and entertainment to enjoy.
Visit the Jurassic Seas – Sea Life Centre. Dive into the depths of the ocean and travel back in time to the age of the dinosaurs. Feed a deadly Plesiosaurus using state-of-the-art technology and explore an exhibit filled with mysterious Mudskippers, Horse Shoe Crabs and other unusual creatures that lived in pre-historic times.
Or book tickets for one of the many events taking place.
Puss in Boots – Emporium – 25 May to 29 May
Grab your boots and join Jack and his wily cat Puss on a quest to defeat an evil ogre and win the hand of Jack's true love, Princess Joy. Tickets £9, suitable for ages 3+
James Campbell's Comedy 4 Kids – The Old Market 26 May
Enjoy an afternoon of laughter for children over 6, their parents and anyone who likes comedy without the rude words! Don't miss this fabulous show which might or might not discuss lollipop ladies, quantum chromatic disruption machines and tartan badgers! Tickets £7
Crazy Contraptions – Hove Museum FREE 26, 28 & 29 May
Join in on the fun at Hove Museum and create a picture of a crazy contraption taking ideas from the magical machines of Rowland Emett. What will your mad invention be used for? Session times are 10:30am & 1:30pm
Peppa Pig & Daddy Pig – Drusilla's 27 May
New for 2015, Daddy Pig will accompany the lovable Peppa Pig on a trip to Drusilla's Park. Don't miss the popular pair as they appear at intervals throughout the day
Three Excellent Little Pigs – The Old Market 28 May
Musical puppets show for all the family, it's the classic piggy tale in a fresh contemporary re-telling. Great music, excellent songs and glow in the dark wolf…! Dress the kids in their favourite animal costume and come and join the little pig's big adventure! Tickets £6.50
BBQ & Live Music Evening – Yellowave Beach Sports 29 May
Join Yellowave for an evening of yummy BBQ food and cool acoustic tunes. Tickets cost £10 and your BBQ plate will include a selection of delicious food. What a perfect way to spend a warm spring evening.
Pitschi, The Kitten with Dreams – Komedia 29 May to 31 May
Pitschi doesn't care for the rough and tumble and mischievous fun of kitten play, but instead dreams of being something else – a chicken, perhaps, or a goat, or a rabbit… for after all, anything is better than being a cat! This original production uses a rich mix of story-telling, physical theatre, music and song to tell the story of a kitten that learns to be happy by being exactly what she is www.komediabrighton.com
Funk the Family Festival – Hove Park 30 May
Funk the Family Festival is a rather splendid, all-day festival, born in Brighton & Hove. The festival emphasis is on really high quality, live music, paired with brilliant entertainment, for all the family.
Funk The Family entertained 1000 people for eight hours last year and 2015 sees the organisers relocate to Brighton and Hove's beautiful Hove Park; allowing thousands more families much more space. Tickets £18.50 adult & £8.50 Child
For more information and updates please visit Brighton & Hove: www.visitbrighton.com