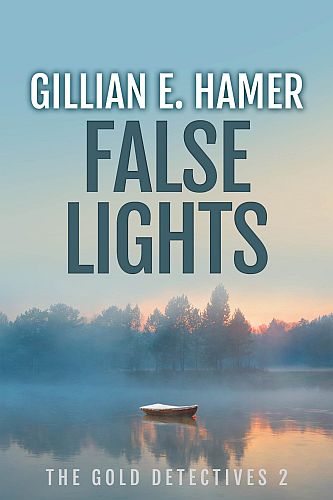 False Lights by Gillian Hamer Brings Scandinavian-style drama to the North Coast of Wales
Gillian is passionate about the Welsh coastline and aspires to put Anglesey on the map – such as Agatha Christie achieved for Devon. "All of my novels are set in and around Anglesey where we have a cottage. My first book, The Charter, was inspired by tales of a local shipwreck of the Royal Charter, and memories of metal detecting on a beach and getting very excited when I found 'treasure', which turned out to be pennies planted by a friend! I continue to be fascinated by the history and archaeology of the island and I try to bring as much as possible into my stories."
Bringing Scandinavian-style drama to the North Coast of Wales: "No one deserves to die like this. No one."
An elderly woman is burnt to death in the remote hamlet of Silver Bay. A young woman dies of an overdose on a notorious Holyhead estate. A drugs war is about to explode. Somebody knows something…but no one is talking.
Kelly Morgan has a social conscience and a pile of regrets. She wants to help but knows she'll never manage it alone. Her boss, DI Amanda Gold, cannot allow anything – not her divorce nor her daughter nor her affair with the boss – to cloud her thinking. Another fire, another death, and the flames lick closer to home. A threat shadows all their lives. A killer is out there, but one step ahead.
False Lights is the second novel in The Gold Detectives series based along the North Wales coast. The first, Crimson Shore, was released in 2014.
Available on Amazon & from all good book shops
Price: £7.99 / £2.99
Category: Crime
ISBN: 978-0-9934388-2-0
Format: Paperback / eBook
Release Date: November 2015
About Gillian Hamer
Born in the industrial Midlands, Gillian's heart has always yearned for the wilds of North Wales and the pull of the ocean. She now divides her time between Birmingham and Anglesey. A company director for 20 years, she has written obsessively for over a decade, predominantly in the crime genre. Gillian has published six novels and written numerous short stories, but her focus is now firmly on The Gold Detectives Series. After completing a creative writing course, Gillian decided to take her writing to the next level and sought representation. Three literary agents later, she changed direction and founded Triskele Books with JJ Marsh and has now self-published successfully through their inspiring author collective. She is a columnist for Words with Jam literary magazine, a regular theatregoer and avid reader across genres. She splits her time between Birmingham and a remote cottage on Anglesey – the inspiration for her writing – and enjoys long walks on deserted beaches with her Jack Russell, Maysie.
Gillian has written: The Charter (2012) Closure (2013) Complicit (2013).
Crimson Shore (2014) False Lights (2015) – Books 1 & 2 The Gold Detectives Series.
Visit gillianhamer.com for more.