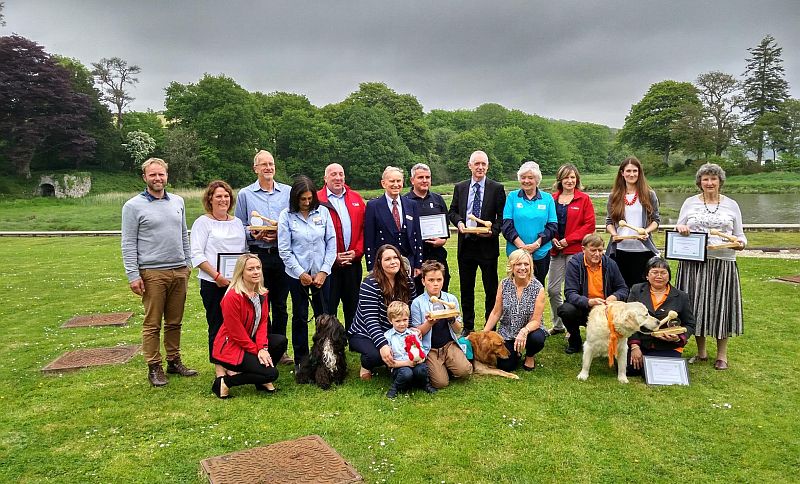 Amroth named Best Dog Friendly Beach in Pembrokeshire
Amroth was named the Best Dog Friendly Beach in Pembrokeshire at the inaugural Pembrokeshire Dog Friendly Tourism Awards organised by Pembrokeshire Tourism and Burns Pet Nutrition, a family company in Wales that makes specialist foods designed for the health and wellbeing of pets.
Pembrokeshire is rapidly becoming a first-choice holiday destination for dog owners – not only for its beautiful coastline but for the many facilities that now welcome holiday makers with their dogs.
This status was celebrated at the inaugural awards ceremony to recognise businesses, villages and locations going the extra mile in this regard.
Held on 23 May 2017 at Slebech Park Estate, the awards, which are the first of their kind to be held anywhere in the UK, are designed to celebrate responsible pet ownership, as well as recognise the efforts of local businesses throughout the county that help to make Pembrokeshire a dog friendly holiday destination.
The awards were judged by the Burns by Your Side reading-dogs teams, part of a scheme designed to help children improve their reading skills.
Amroth beach, one of Pembrokeshire's half mile long, flat and sandy beaches, secured the award for Best Dog Friendly Beach. The judges assessed a wide range of criteria to decide the winner, but most specifically; accessibility to everyone, facilities around the beach that make a visit there pleasurable for people with dogs, areas for those who are not comfortable being around dogs, parking facilities, as well as opening restrictions and any dangers to dogs on the beach itself.
The other winners were: Best Town/Village: Saundersfoot; Best Dog Friendly Holiday/Accommodation: Cwm Connell Coastal Cottages; Best Dog Friendly Pub/Restaurant/Café: Temple Bar, Amroth; Best Dog Friendly Caravan/Campsite: Coastal Wood Camping; and Best Dog Friendly Day Out/Attraction: Carew Castle & Tidal Mill.
Burns Pet Nutrition, the main sponsor of the awards, champions the importance of the environmental responsibilities of tourists as well as the benefits to businesses that embrace a pet-friendly offering. Pembrokeshire Tourism works closely with the Pembrokeshire Coast National Park Authority and Pembrokeshire County Council to develop a first-class offering to visitors that have dogs.
Carol Lincoln, Community Liaison Manager of Burns Pet Nutrition, said:
"These awards allow us to partner with a fantastic organisation and it has been a great pleasure to work on this innovative project, which has given us the opportunity to use our Burns by Your Side teams, who judged the event and took great pleasure in exploring the wonderful country of Pembrokeshire.
"Its success this year has been such, with more than 400 applications, means that we hope to replicate it again when we fully expect it to go from strength to strength."
John Burns, Veterinary Surgeon and Founder of Burns Pet Nutrition, said:
"We have a very strong historic connection to the area of Pembrokeshire and, being extremely passionate about developing the bond between humans and animals, these awards allow us to celebrate this and praise Pembrokeshire for its efforts in ensuring its facilities welcome holiday makers and their animal friends."
Dennis O'Connor, Tourism Liaison Manager of Pembrokeshire Tourism, said:
"Pembrokeshire is a very special place for visitors and we are delighted to have been able to recognise the work of dog friendly businesses throughout the county as well as our fantastic towns and beaches.
"Increasingly, visitors are looking for dog friendly destinations to avoid the distress of leaving their pets in kennels, so the wonderful coast and countryside that Pembrokeshire offers is particularly appealing."