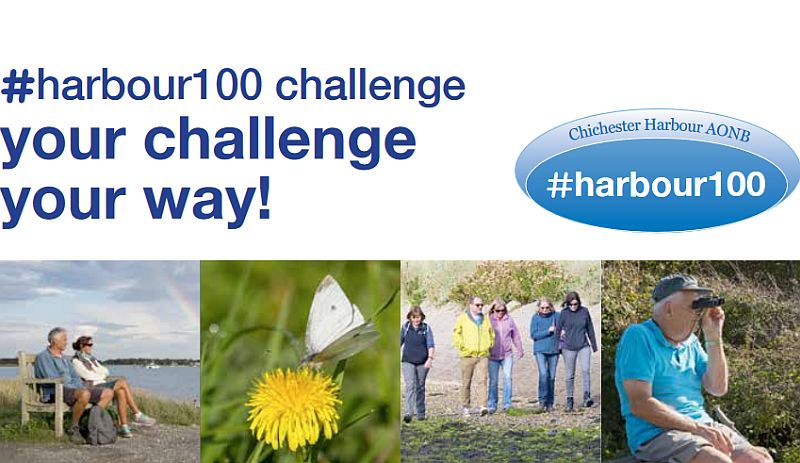 Chichester Harbour Conservancy Announces #harbour100 Challenge
As part of its ongoing commitment to engage with users of the Harbour, and celebrate all that the area has to offer, Chichester Harbour Conservancy has announced its latest project – #harbour100. The #harbour100 challenge encourages people to set a personal target and share 100 things from within the boundary of Chichester Harbour Area of Outstanding Natural Beauty. The #harbour100 challenge can consist of anything – spotting 100 different species of bird, taking 100 photos, witnessing 100 sunsets, undertaking 100 hours of activities, drinking 100 pints or coffees to name but a few examples.
Visitors are encouraged to sign up through the registration form, set their own deadline and get started on their own challenges. Participants are given an achievement sheet to record their #harbour100 progress and are being encouraged to share their pictures on social media. Throughout the challenge, participants can enjoy rewards offered by local businesses for certain milestones and they can apply for a commemorative badge when they complete their challenge.
Judi Darley, Communities Officer for Chichester Harbour Conservancy comments: "We hope the #harbour100 challenge gets people out and about in Chichester Harbour, so they can enjoy and learn more about this beautiful harbour area. There's so much going on around the Harbour – including incredible wildlife, beautiful views and fantastic local bars and cafes – so we want to share people's experiences of all there is on offer. The challenge has been designed to be flexible to suit everyone, so people can do it as quickly or slowly as they want. We can't wait to see what everyone sends in!"
The Chichester Harbour Conservancy team is embracing the #harbour100 challenge too with a few of the staff committing to 100 lunchtime walks and another aiming to photograph and tweet 100 different sporting activities. Judi Darley, Communities Officer, has committed to spotting 100 different species of birds as her challenge, and has already identified 48!
More information and the registration form for the #harbour100 challenge is available at www.conservancy.co.uk. The area covered by the #harbour100 challenge spans the whole of Chichester Harbour, from the east coast of Hayling Island, over Thorney Island and Bosham, round the west coast of Chichester and down past Itchenor to East Head.
For more information please visit www.conservancy.co.uk