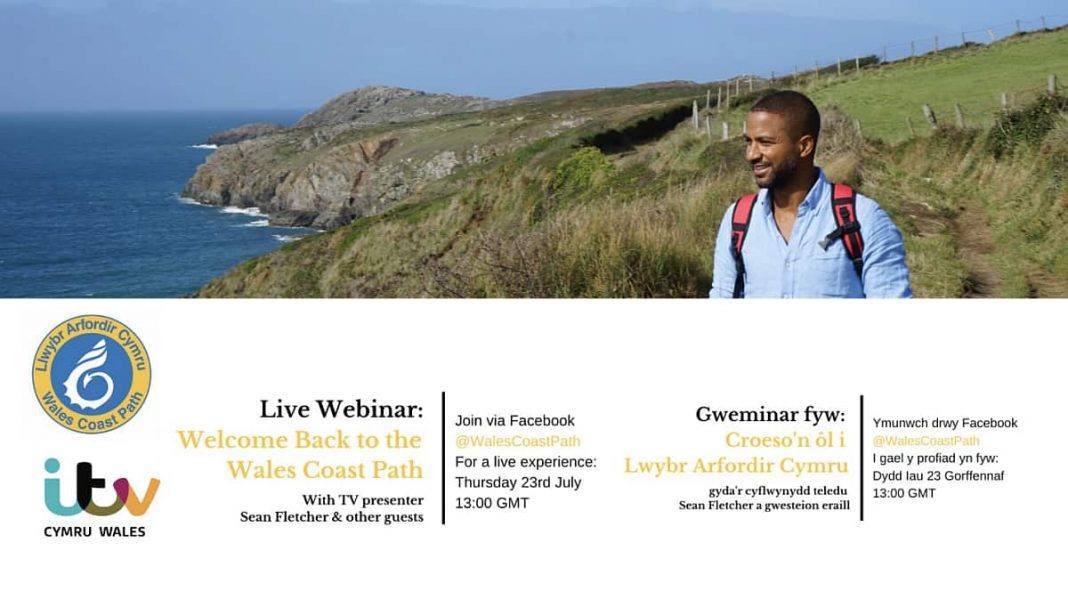 Wales Coast Path & ITV Wales Host First Virtual Webinar for Path's Reopening
This July, the Wales Coast Path will celebrate reopening and a new national TV series, with their first virtual webinar in partnership with ITV Wales.
The webinar will provide information and inspiration for walkers to explore and enjoy the path safely. It will also provide the public with a full update on new post Covid-19 guidelines for the Wales Coast Path. There will also be insights into the new national ITV series and Visit Wales' recent visitor pledge.
The event will take place on Thursday 23rd July at 1pm and will be streamed via Facebook Live. Hosted by ITV's Kate Lewis and featuring ITV presenter Sean Fletcher along with other guests, the webinar will take place on the day of the first episode of ITV Cymru Wales' new series 'Wonders of the Coast Path'. It will be the Wales Coast Path's first virtual event.

The Facebook Live event will be hosted in partnership with ITV Cymru Wales and Visit Wales. Featuring a line-up of guest speakers who have experienced the path first hand, the webinar will give viewers insights into the beautiful and diverse coastline, in addition to the range of experiences available.
Order of Event & Speakers:

1. A Wales Coast Path update along with Q&A – Quentin Grimley – Coastal Access
Project Officer
2. Special views and challenging trails: why you should hike 5km – Will Renwick – President of Ramblers Cymru and Editor at Outdoors Magic, the youngest person (aged 22) to walk both the Wales Coast Path and Offa's Dyke
3. How to find motivation and inspiration on the Wales Coast Path – Arry Beresford- Webb – The first female to run the entire path
4. 'Wonders of the Coast Path' – Top Five Moments – Sean Fletcher – Good Morning Britain, ITV's Wonders Of The Coast Path
"We're looking forward to welcoming people back to the path to enjoy some of the best coastal views the UK has to offer. This webinar is a great opportunity to find out about the path from people who have experienced first hand to help you plan your visit". – Eve Nicholson, Technical Support, Wales Coast Path & Natural Resources Wales
Register to attend the free Live Webinar 'Welcome Back to the Wales Coast Path':