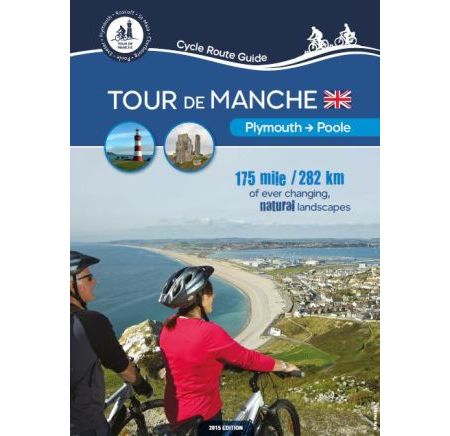 First Complete Cycle Guide for Tour de Manche UK
The first dedicated cycle route guide has now been produced for the UK section of the Tour de Manche route starting from Plymouth, Britain's Ocean City and ending 175miles/282km later in the vibrant town of Poole with the second largest natural harbour in the world.
The Tour de Manche UK Cycle Route Guide comes as a toolkit with the latest Dorset Downs and South Devon Cycle Maps (Sustrans) along with downloadable GPS files for each of the 9 stages including stage town centres; downloadable GPS file for the whole route and an electronic version of the Tour de Manche UK cycle route guide – suitable for smart phones and tablets.
The Tour de Manche UK Cycle Route Guide contains everything from
· Accommodation to suit a range of budgets
· Campsites along the route
· Where to eat from pubs to restaurants
· Stage descriptions with distance and gradients
· Route attractions, events and highlights
· Travel information to and back from start point
· Suggested itineraries from a 4 day challenge, 6 day ride and 9 day leisure ride
The design and format enables the content to be easily updated on an annual basis with all latest news being posted on the Signpost Cycling website's Tour de Manche blog.
Principal of Signpost Cycling Roy Griffiths said "Having previously purchased other hard copies of route guides and discovering a lot of the content was no longer current with mapping that was entirely inadequate we decided to produce a versatile, comprehensive and complete package, allowing the cyclist to easily plan and ride the route with one purchase. We will be regularly checking the route details with any changes being posted on our Tour de Manche Blog, ensuring the life of the pack".
The total package is available for £19.95 from www.signpostcycling.co.uk/routeguide