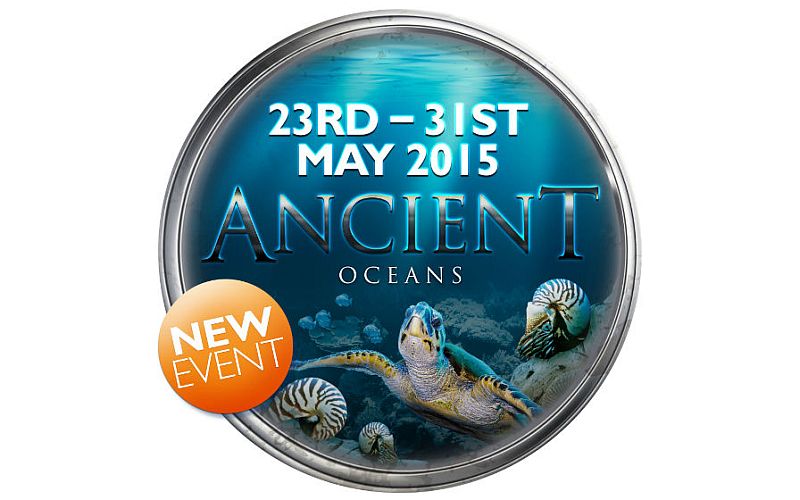 Delve in deep to the history of the ocean at Sea Life Brighton.
Join us at Sea Life Brighton this Whitsun as we gear up for a captivating and intriguing half term! We're inviting families to experience our fun-filled, educational Ancient Oceans event.
From May 23rd – 31st, visitors will get the opportunity to learn about the fascinating history of the ocean and the evolution of mesmerising sea life creatures, some of which have been around for over 200 million year – outliving the dinosaurs!
A host of exciting activities, workshops and talks will take place during this special themed week. Visitors of all ages will be listening in thrill and anticipation as they learn how past events unfolded and how the sea life creatures formed.
Carey Duckhouse, Curator at Sea Life Brighton commented: "We are really looking forward to our Ancient Oceans event this half term; it's great to get everyone involved in a range of historical and educational talks and activities."
Families will also get the opportunity to explore over 55 amazing displays with some of these prehistoric creatures like turtles and sharks. "What is so interesting yet sad about these creatures, is that they have managed to survive volcanos, meteors and other natural disasters over millions of years, but it is humans that are now their greatest threat." said Carey.
In addition to the Ancient Oceans event, guests can come face to computer-generated face with some seriously terrifying prehistoric sea monsters in the new feature Jurassic Seas. Interact with 3 digital dinosaurs and meet ancient creatures such as Nautilus and Horseshoe Crabs.
Ancient Oceans will feature a creature trail around the attraction, an interactive fossil dig, updated talks and feeds and a Turtle Row-a-thon in support of turtle conservation.
Ancient Oceans runs from May 23rd until May 31st at SEA LIFE Brighton – open daily from 10am. The Turtle row-a-thon is in aid of the SEA LIFE Trust and takes place over the bank holiday weekend – 22nd – 25th May.
For further information or to pre-book tickets online before your visit please go to www.SEALIFE.co.uk/brighton. Reduced prices are available for tickets booked in advance.